The R-panel is a type of metal roofing that is durable and low-maintenance and it is perhaps one of the best alternative of conventional roofing. Besides this, it can save labor, time as well as disposal costs and hence the overall project cost would be reduced.
Furthermore, they are available in multiple colors which gives a very attractive and sleek appearance.
Installation of R-panel metal roof is considered as a very good investment in the areas that have volatile weather. Typical shingled roofs are likely to get damaged due to persistent wind and rain and thus you would have to pay costly amount for the repairing purpose.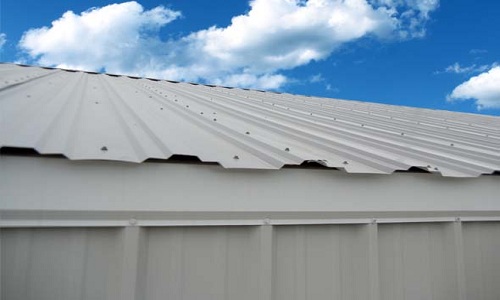 So, if you are looking for R-panel metal roof services in DFW, Texas, then you should definitely consider us as we have rich experience in the following industry. Besides this, R-Panel can be easily installed in open framing or solid substrate such as wooden support beams or metal purlins.
R-panel is great for self-storage properties, as equipment screens, for architectural accents, as decorative fencing, as a textured ceiling, or even as an interior wall treatment.
We at DFW Metal Roofing Pro Company offer our customers with a wide range of metal roof panel options which is quite suitable for industrial, commercial, residential and agricultural settings. Besides this, our R-Panels are quite hassle free to install by the fasteners and it can be very well used for interior, wall and the linear panel.
It is also quite handy for equipment screens, buildings, textured ceiling, decorative fencing. In a lot of cases the metal PBR panels are applied horizontally for the architectural vertical while used vertically in commercial segment.
What are the applications of R-panel metal roof?
R-Panel installation process is quite hassle free and it has a lot of applications. Some of them have been mentioned below:-
Some of the interior applications are textured ceiling, kitchen and the wall treatment.
Some of the exterior application of R-panel metal roof are roofing area, decorative fencing, metal siding, movie sets, restaurants to name a few.
What are the benefits of R-Panel metal roof?
There are several benefits associated with R-Panel metal roof. Some of them have been mentioned down below:-
Cost in a very important factor while you are investing in any given business. R panels are known to offer great durability at a very manageable cost. The durability and low maintenance makes R-Panel an ultimate choice for the roofing industry.
Texas has a very volatile weather and thus the non-reflective roofs are not recommended. Also, the roofing system receive great deal of direct sunlight and thus installing R panel metal roof is highly necessary.
The reflection of heat makes the temperature of the property moderated especially in the hot and intense weather of Texas. Besides this, R panel roof helps to remove the damages that can cause leaks and several other kind of problems.
If a building has a poor temperature control, then it can seriously hamper it. One of the benefits of R-Panel metal roof is that it provides a superior insulation. Besides this, it also protects against infiltration of moisture and air.
Why should you choose us for R-panel metal roofing services?
We are completely aware of the fact that there are N numbers of roofing contractors who provide R-panel metal roofing services in DFW, TX. But, what separates us from them is the fact that we are locally owned and operated and we have been in this industry for more than 15 years.
We are also backed with a team of excellent crew members who have the rich expertise and make use of the latest equipment's and techniques such that the work is executed in a right way. Besides this, we also completely understand the climate of the region and the ways to tackle the problems that comes with it.
We provide our services to both residential and commercial customers in and around DFW, Texas area and the fees for our services is quite reasonable.
Take the first step- Hire us today
Are you still not sure how your R-panel would work out for you? If yes, then you don't have to worry as we have a team of proficient team members who have great experience in the following industry and thus you are sure to get the best possible answers for all your queries.
So, it is recommended that you get in touch through call or email and further discuss your upcoming roof replacement, repair or installation project. We would be more than happy to help you out.