Are you witnessing that water is leaking through your property? Have you noticed shingles missing suddenly? If, yes, then you don't have to worry as we at DFW Metal Roofing Pro have the right expertise to diagnose problems in your metal roof.
Well, many of the roofing issues can be easily prevented if proper maintenance is done through the roofing expert.
Once you get in touch with us, we will schedule one of our experts to your home to evaluate the condition of your roof and further discover any problem if it is present. Besides this, you will get the peace of mind as we will let you know all the potential repair recommendations and options before we go ahead with the process. Hence, we are sure to take care of all your problems .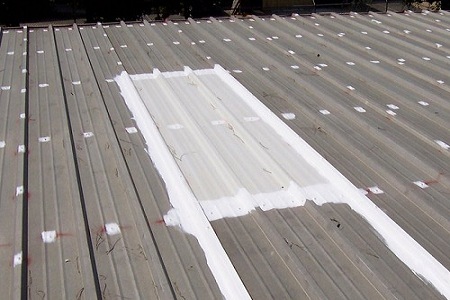 Besides this, we are also locally owned and operated and thus you can rely upon us for metal roof leak repair services for your property. Roof leaks is perhaps one of the roofing problem that can make the life of a home owner quite miserable.
Also, locating the leak source is quite challenging and thus the repair job can get quite difficult. Also, the spot where you see the strains and water may actually be located at a fair distance from the roof damage and thus it is always recommended to get in touch with a roofing professional at the earliest.
Besides this, if the leak is left unaddressed, then the moisture that is present inside the roof can degrade the insulation and further the growth of wood-rotting and mold fungus can occur. A professional roofer is very well equipped to deal with such problems and thus it is recommended that you don't climb up the roof to search for the source destination yourself.
Thus, if you need a reliable and rapid roof leak detection and repair services in DFW, Texas, then look no further than DFW metal roofing pro.
Get High quality metal roof repairs in DFW, Texas
Our experts #DfwMetalRoofingPro have an experience of over 15 years in providing top-notch metal roof repairs to home as well as building owners in the DFW, Texas area. Some of the components of the roof that can cause problems are :-
Failed seams
Scratches
Faulty boots
Poor installation
Chalking
Loose flashing
Failed butyl sealant or tape
At DFW metal roofing pro, we are trained to repair different kinds of metal roofing systems. Hence, with professional and regular maintenance and repairs, your metal roof is sure to last for a long span of time.
Why you should choose us for the metal roof repair?
There are numerous reasons why you should choose us for metal roof repair. Some of them have been mentioned below:-
We have more than 15 years of experience in this industry
We at DFW Metal Roofing Pro have been in this industry for more than 20 years and since our operation we have delivered thousands of projects successfully.
All our crew members are quite experienced and trained magnificently such that they can offer the best possible work and at the same time use the latest techniques. Hence, you are sure to get the peace of mind while the work is being done.
We can help you out in insurance claims
We as a reputed roofing agency are experienced enough to help you in insurance claims if the problem is genuine. We have helped out thousands of our clients in roof repair insurance claims. Hence, we would guide through each and every step that is required in the insurance process.
Free Roofing Inspection
We provide our customers with a free roofing inspection for their metal roof such that they can get aware of the potential problems in their roof. Furthermore, we also help them with the proper solutions in order to fix up the problems.
Take the first step- Contact us now for Metal Roof repair in DFW, Texas
All the property owners who are having metal roofs should get in touch with us to schedule a maintenance or to fix a roof leak. We have been serving in the DFW, Texas area for over 15 years now and thus we have the right experience to inspect and perhaps determine the problem source.
We have worked on a number of metal roofing repair projects and thus you can very well trust us to resolve all your problems. Whether you are looking for a regular maintenance or a repair, we at DFW metal roofing pro are here to help you out.