A metal roof coating can help to increase the lifespan of the metal roof. The best part is that the application of Metal Roof coating is quite easy and thus it won't disrupt your personal or business life.
Recently in the last couple of decades, the popularity of metal roofs has increased a lot. Metal roofing has been a popular choice for a lot of property owners as it is durable, acts as a radiant barrier to the ecological effect that it brings to the table.
Metal roofing is good in its own way but at the same time it comes up with few drawbacks as well. One of the major problems with the metal roof is the Rust. So, Rust can cause an adverse effect on the roof and thereby increases the chances of leaks and thus leads to the structural problem.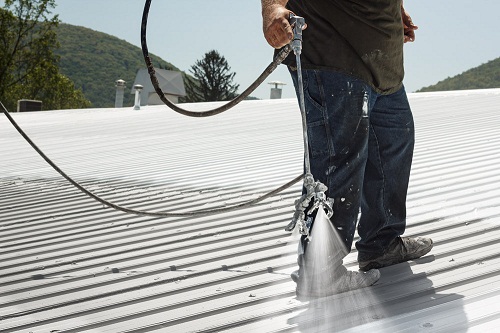 The metal roof coating services in DFW, TX provided by us can solve all your problems. Besides this, it can provide added protection against the water penetration and thereby increases the life of the roof by tackling different weather extremes and reducing the air conditioning cost through ultraviolet rays reflection.
Besides this, our metal roof coatings are quite seamless and thus it can easily stop the leaks and rust. Also, they are lightweight in nature and thus the foundational issues of your business/ property won't get affected. Furthermore, it can easily eliminate the tear-off and roof replacement.
With our metal roof coatings, the electricity can also get reduced as it lowers down the temperature and thus the need for a cooling unit is not necessary. Additionally, our metal roof coating is quite affordable and thus you won't have to pay a hefty price for it.
What are the benefits of metal roof coating?
There are several benefits that come along with the metal roof coating. Some of them have been mentioned down below:-
It can protect your roof from sun
The sun rays can cause a lot of harm to the roofing system. The combination of high-powered UV rays can cause cracking, fading, premature aging and blistering. By, opting for metal roof coating, you are surely going to prevent all these issues.
It will provide you with a cooler interior
As mentioned above, metal roof coating reflects away the UV rays as well as the heat of the sun. This potentially helps to keep your roof quite cool throughout the course of a year. It thereby puts less strain on the air conditioning unit which in turn consumes less electricity.
It also provides good insulation and thus you are going to save a lot of money when you would be running a heater during the winter season.
It can help to reduce the maintenance costs
A coated roof can make the roof quite strong and durable. Besides this, it becomes quite durable and it doesn't get damaged easily. Just in case, it develops a hole or become torn due to the vital effect of the storm, then it can be easily repaired by applying a spray or patch to the new material.
Hence, metal roof coatings can very well reduce maintenance cost.
It is quite environmental friendly
A roof coating is quite eco-friendly and it prevents or delays the need of the roof replacements. Besides this, roofing materials are non-recyclable and thus it very well helps to save the environment.
It can help to fix the existing issues
If you are having existing issues in your roof, then a metal roof coating can very well help you to fix it. For instance:- If your roof is leaking, then a metal roof coatings can very well stop it and thus the price of repairs can be very well reduced.
Hence, if you are looking for a lasting and inexpensive solution, then metal roofing is the way to go.
Get started Now!
We @DfwMetalRoofingPro take pride towards our quality craftsmanship and customer service. So, if you are looking for metal roofing services in DFW Texas, then do get in touch with us through call or Email and we would be more than happy to help you out.
We are one of the leaders of this industry and thus you are sure to get quality work from us.